Jessica Halmaghi is a twenty-one-year-old senior at Michigan State University. She is also the Founder and CEO of Smile 4 Kids, a 501(c)-3 non-profit organization. At Smile 4 Kids, they are dedicated to enriching the lives of children experiencing hardship by providing hope, instilling resilience, and developing opportunities to succeed. They mainly work with foster children and chronically-ill pediatric patients, however they have also adapted the type of framework that allows them to never turn a child in need away, no matter what their circumstances are. They strongly believe that how a child recovers from any type of tragedy or trauma is contingent on the type of support they receive. Each child is unique and responds to support differently, which is why they will take the time to really figure out what is going to help each child. Jessica and her team at Smile 4 Kids work to provide every child with all of the resources, tools, and support they need to succeed.
The inspiration behind Smile 4 Kids came from Jessica's family, specifically her older brother Brandon. In September of 2017, Jessica and Brandon created Smile 4 Kids MSU, a student club at Michigan State University.
Now, Smile 4 Kids is the overarching foundation with multiple university clubs, including Smile 4 Kids MSU, branching from it. They currently have clubs at Michigan State University, Grand Valley State University, and The University of Michigan with over 500 volunteers throughout. They are also in the process of setting up clubs at Western Michigan University and Wayne State University, with a long-term goal of having at least one chapter in every state throughout the U.S.
After having to cope with the unexpected losses of both her best friend and grandmother, her mother told her to take the strength that she had and share it with others.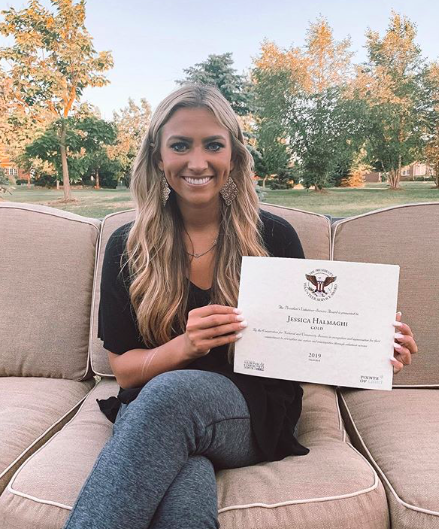 Through Smile 4 Kids, Jessica has learned that there really is no such thing as a bad day if you keep a positive attitude. Her biggest obstacle has been overcoming her own perspective.
Where some organizations may work to raise funds for research, Smile 4 kids' main purpose is to develop and maintain long-lasting relationships with the children they work with to give them the confidence that they are never alone throughout their hardship. Jessica and her team do this by providing weekly and monthly mentorship, tutoring, and fun activities with every organization they are partnered with.
This year, Smile 4 Kids is working towards raising enough money to fund a trade school program at Methodist Children's Home Society. With a significant demand for trade schools, Jesssica and her team want to give foster children the alternate path and mindset that their future after foster care does not have to be ending up homeless, unemployed, or left with only the option of enlisting in the military. They do have a future to look forward to and work towards. They hope that this program shows them the value that they have in this world.
Through Smile 4 Kids, Jessica and her whole team have been able to transform the lives of countless children by offering them the resources and opportunities they need to ensure that they are able to overcome the hardships they may be facing. The relationships they build with the children works to give them the confidence to realize that they are not alone. As they continue to expand, their mission stays the same, to change the lives of children in need, one smile at a time
To visit Smile 4 Kids official website, please click here.